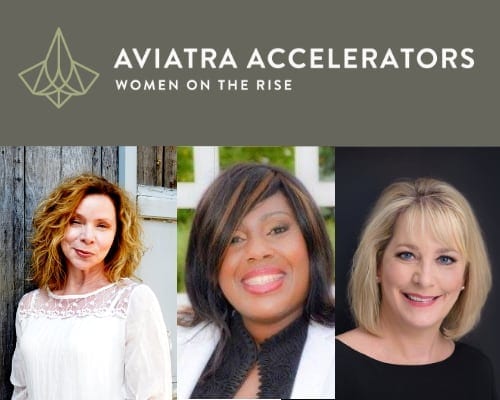 Aviatra Accelerators to bring its female founder focus to Dayton
April 14, 2020
A new business accelerator is coming to Dayton — and it's designed specifically for women.
Aviatra Accelerators (formerly Bad Girl Ventures, Inc.) launched in Cincinnati in 2010 to empower female entrepreneurs. Over the last decade, they have helped 2K women launch companies, create 6,500 jobs and raise $10M+ follow-on funding.
This summer, Aviatra is looking to launch its first Dayton cohort, generously funded by Robin Gentry-McGee, founder of Functional Formularies and a 2011 alum of the program.
Robin's journey with Functional Formularies began in 2005 when her father suffered a traumatic brain injury. A former chef versed in eating whole foods and using food as medicine, she was appalled to discover that the formula in father's feeding tube was almost all sugar, which made the secondary symptoms of his coma worse.
She set out to find a healthier formula for his feeding tube — and when she discovered there was nothing on the market, she invented her own.
Her father's health turned around within 6 weeks of taking the new, healthier formula.
"His doctor said it was a miracle, I said, no, it was nutrition," Robin recalled. "People who are dying need the best nutrition, but they're given the absolute worst."
Robin opened a health coaching practice to teach others, but as she continued to receive waves of requests for the formula recipe, she realized there was a huge need to provide it ready-made, so she decided to commercialize it.
In 2013, eight years after its creation, Functional Formularies' "Liquid Hope" debuted on the market. In 2018, Robin sold the company for an undisclosed sum.
Her experience with Aviatra Accelerators was key to her success, Robin said.
"It gave me the confidence to feel like I actually had the tools I needed to go in front of investors to raise funding, win pitch competitions," she said.
Aviatra paired her with a mentor who was available 24/7 and is still part of her life, Robin said. And Aviatra's powerful network gave her the contacts she needed to take her company to the next level.
When she saw the opportunity to bring the program home to Dayton, she jumped.
"I do believe that women are underserved, and everybody needs a champion. I've been given opportunities, been at the right place at the right time, that have enabled me," she said. "I'm honored to be able to give that opportunity to others."
Aviatra Accelerators offers three programs in order to meet female founders in each stage of their journeys: Explore, Launch & Grow. Each class is taught by successful business owners and professionals from the local community with deep experience in fields from business planning to marketing to finance. The programs also incorporate one-on-one coaching with industry experts. Aviatra also offers an online learning platform called Aviatra365.
Aviatra will launch these cohorts in Dayton this fall. In the meantime, Aviatra – Dayton will offer free virtual support to help female entrepreneurs navigate the uncharted waters of COVID-19 shutdowns, slowdowns, and pivots. Aviatra has also launched a weekly Aviatra Survival Kit e-newsletter to provide subscribers with resources and tips from local, regional, and national organizations.
Long-time Dayton resident Pamela Cone will lead as Market Director for Aviatra – Dayton. Pamela brings extensive marketing and communications experience and formerly held a leadership role at Functional Formularies.
For more information, visit aviatraaccelerators.org.
Popular Categories
Related Stories