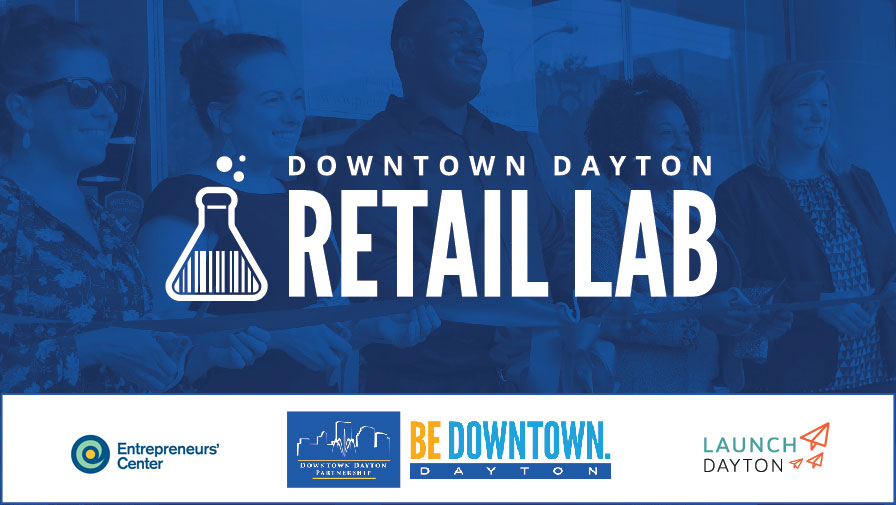 Apply now for the next cohort of the Downtown Dayton Retail Lab!
July 6, 2021
Working to open a small business in downtown Dayton? Applications are open for the next cohort of the Retail Lab, a 12-week program designed to grow and support Downtown Dayton's first-floor businesses.
The Retail Lab is powered by Launch Dayton partner Downtown Dayton Partnership. The program invites business owners to advance their first-floor concept through an intensive series of workshops, pitch events, and strategic business improvement projects. Each program element connects participants to new mentors, experts, ideas, capital, and resources that will help the businesses thrive and grow in downtown Dayton.
"Downtown Dayton's first-floor businesses — boutiques, shops, cafes, yoga studios, restaurants, pubs, and more – are the lifeblood of our downtown community," says program director AJ Ferguson. "These entrepreneurs create the amenities, connections, and experiences that make our downtown a vibrant place to live, work, and play."
Who should apply?
We are searching for entrepreneurs, especially minority-owned and woman-owned businesses, who are aiming to open a first floor business in downtown Dayton. The ideal candidate already has some traction and consistent revenue through e-commerce, events, participation in markets or vendor fairs, etc. But earlier stage businesses are still encouraged to apply.
Eligible business types include aspiring shops, cafes, small restaurants, galleries, boutiques, studios, or any concept that drives active use of first floor space by offering consumers unique products or experiences. (not offices, not meeting space)
What are the benefits?
Invest 30+ hours in intensive workshops and opportunities to build and improve their business
Build valuable relationships with mentors and fellow business owners in the Retail Lab
Clarify and strengthen their business model with the support of local experts
Explore technologies to streamline and scale their business
Put their business on track to access capital for growth
Pilot their new concept or new approach in the downtown market
Pitch their business to downtown developers, investors, and stakeholders for additional support (Demo Day)
Receive up to $1,500 in professional services and consulting at no cost to your business
How do I apply?
Follow this link by JULY 22 to apply for the next cohort of the Retail Lab!
Popular Categories
Related Stories