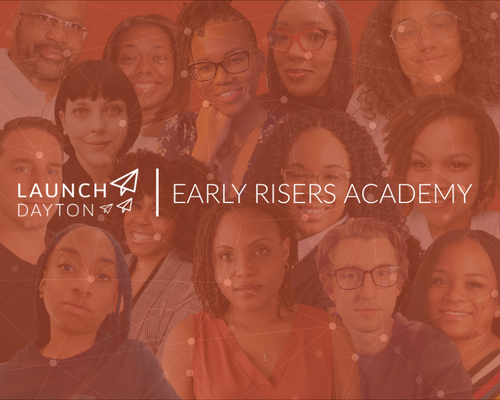 Apply now for the fall 2022 Early Risers Academy cohort!
September 27, 2022
Dream of opening a vibrant storefront that contributes to your hometown community? Have an idea for the next great gadget? Looking to leave a legacy for your children in the form of a business you built from the ground up?
Start building your legacy through Early Risers Academy business classes. Apply by Sept. 30 to be part of the fall 2022 cohort!
Early Risers Academy is a free, 10-week, cohort-based business class designed to help business owners and aspiring entrepreneurs build the foundations they need to make their businesses successful. More than 80 business owners have graduated the academy since it launched in late 2019.

"I could not talk to investors before Early Risers Academy," says 2020 Academy graduate and What's The Biz founder Te'Jal Cartwright. "Now, when I'm in a conversation about business, and they ask about projections or my business plan, I can give real answers."
"You deserve to give your dreams, your idea, a try," adds 2021 graduate and EvenYou founder Christian Johnson. "Early Risers Academy will make sure you are equipped. They will do everything in their power to make sure you succeed."
Who are Early Risers Academy business classes for?
Are you an aspiring entrepreneur with an idea for a business, but you aren't sure where to start?
A small business owner who jumped in with both feet and is now wondering how to grow your business?
Operating a side hustle that you dream of making your 9-to-5, if only you could figure out how to generate enough revenue?
Dreaming up a side hustle to diversify your income?
Need to solidify your business foundation?
If you answered yes to any of the questions above, then Early Risers Academy is for YOU.
What do participants get?
Business owners and aspiring entrepreneurs in Early Risers Academy meet one evening a week for 10 weeks in a supportive environment that offers one-on-one coaching, access to networks and business support resources, accountability partners and business foundation-building.
Participants learn from the Dayton, Ohio region's experts in areas including market research, financial projections, business taxes, customer discovery, prototype development & marketing. Each week also includes pitch coaching, graduates pitch their business for a chance at $1K in seed funding.
Participants will complete Kauffman FastTrac coursework from the nationally-renowned Kauffman Foundation, receive pitch coaching and hands-on mentoring, participate in weekly discussions with successful entrepreneurs and experts, & access Dayton's entrepreneur and small business resources.
All cohort participants go home with valuable deliverables including market research, a completed business plan, and a high-quality pitch deck. And the culture of support carries beyond graduation.
The next cohort kicks off Oct. 11. Apply by Sept. 30 to be part of it!
Popular Categories
Related Stories