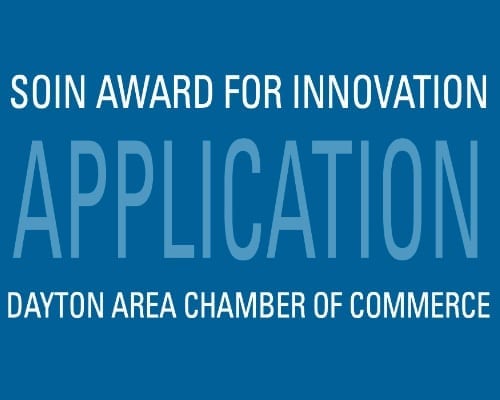 APPLY NOW for the 2022 Soin Award for Innovation
February 1, 2022
Want to see your favorite Dayton startup snag the Soin Award for Innovation — & the associated $25K in funding — in 2022?
Encourage the founder you know to apply by 4 pm, Friday, March 4, 2022!
The Soin Award is designed to identify, honor and financially assist a Dayton region company demonstrating the community's historical innovative and entrepreneurial spirit. The award recipient will showcase a new or pending product or service with the ability to sustain longterm growth for the company, increase local employment and help create economic prosperity in the region.
The criteria:
An organization or company operating for the purpose of the commercial production of a product or service.
The organization must be within the Dayton region.
New or redesigned product or service recently launched into the marketplace or ready to be launched in 2021.
The innovation should be unique or fill a needed void in the market or industry in which it serves.
The organization does not have to be a member of the Dayton Area Chamber of Commerce.
Soin family-owned or operated companies are not eligible.
The Soin family and the Chamber have partnered to offer the annual innovation award since 2007.
Previous Soin award winners have included:
Dayton startup insurtech firm ConsumerOptix won the 2021 Soin Award for Innovation. The startup's Accelerate platform allows consumers and employees to determine their coverage needs and starts the purchasing process with a simple click of the mouse.
Arcani Coil Care won the 2020 Soin Award for Innovation. Arcani Coil Care creates Black hair care products.
Global Flyte won the 2019 Soin Award for Innovation for their commercially-developed mapping, imaging and smart phone technologies to provide emergency responders with a cloud-based service to cut through chaos and better coordinate emergency response.
Battle Sight Technologies won the 2018 Soin Award for Innovation for their chemiluminescent writing tool — essentially an infrared glow stick that writes like a crayon to enable soldiers to communicate on the battlefield via messages only visible through night vision goggles.
Mound Laser and Photonics Center, Inc., IYA Technologies, Composite Advantage, Commuter Advertising, NanoSperse, UDECX, AAA Wastewater, NONA Composites, Redwall Technologies and Obi / DESiN LLC all picked up recognition and funding through the Soin Award for Innovation program.
2022 Soin Award for Innovation winner could be you! –>> Apply here.
Popular Categories
Related Stories