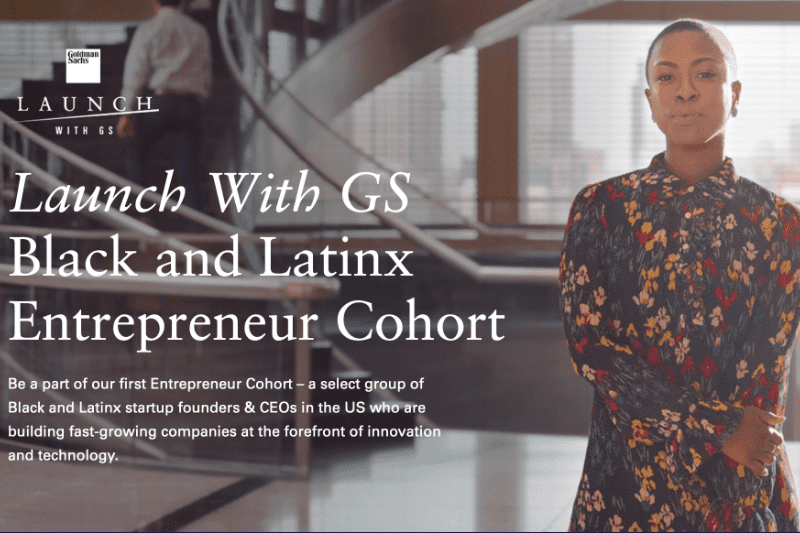 Apply for Goldman Sachs' first Black & Latinx entrepreneur cohort
March 3, 2020
Black or Latinx startup founder building a fast-growing company at the forefront of innovation and technology?
Apply for the first Launch With GS Black & Latinx Entrepreneur Cohort, backed by Goldman Sachs.
This customized, 8-week experience provides an opportunity to access the best of Goldman Sachs – from industry experts to influential networks – while building relationships with investors.
Eligibility requirements:
–  Black or Latinx Founder, CEO or President of all genders
–  Company based in the US
– 2020 projected annual revenue run rate of at least $1 million
– High growth, tech or tech-enabled across fintech, enterprise software, consumer and healthcare
– Proven market opportunity and path to product-market fit
– A commitment to attend two in-person events at our headquarters in New York: Cohort Kickoff on Wednesday, June 3 and Entrepreneur Summit and Investor Showcase the week of July 27
Learn & connect

— Financial and Industry Expertise through customized 1-on-1 and sector-specific workshops with specialists across investment banking, research and investing teams.
— Engage with the Launch With GS Advisory Council of leading investors, entrepreneurs and executives, in addition to Goldman Sachs' network of Fortune 500 companies and investors.
— Meet with industry-leading startup experts for customized advice on topics ranging from legal considerations to cap table structure to marketing and branding
— Build relationships with Goldman Sachs investors for investment consideration and participate in a live Investor Showcase with an invite-only investor audience
— Explore opportunities to integrate your company's product or service into relevant Goldman Sachs businesses
—Participate in a primarily virtual 8-week program, designed to accelerate growth while allowing you to maintain focus on what you do best as a founder – building your business
APPLY HERE  by Friday, April 17. The cohort will be announced Friday, May 8.
Popular Categories
Related Stories