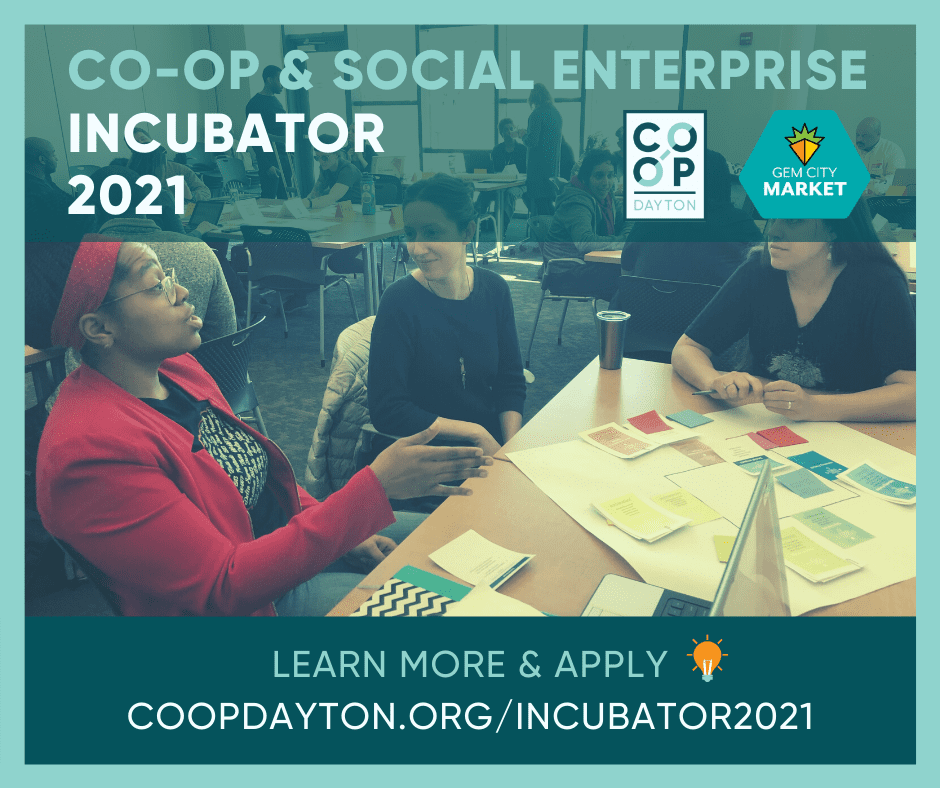 Apply for Co-Op Dayton's 2021 Social Enterprise Incubator
October 27, 2020
Have an idea for a mission-based company that could change the world? This Cooperative & Social Enterprise Incubator could be for you!
The Cooperative and Social Enterprise Incubator, managed by Launch Dayton partner Co-Op Dayton, supports teams of entrepreneurs to develop cooperative businesses or social enterprises. Between January & October 2021, the teams complete market research, create a business plan, pilot their product or service, and pitch for startup funds. Applications for the 2021 cohort are currently open here.
Each month, attendees complete:
• a mandatory Saturday morning workshop to learn key business development skills;
• an optional Wednesday evening networking session to build relationships with team members and other teams;
• two required meetings with Co-Op Dayton staff and outside advisors to support progress towards your plan.
Cooperatives are worker or community-owned businesses, real estate cooperatives or cooperative loan funds. Social enterprises employ disadvantaged people, or offer transformative products or services with measurable impacts on disadvantaged communities.
At 7:30p on Thursday, Nov. 5, Co-Op Dayton will hold a cooperative design workshop to develop your ideas, build out your team and learn more about the organization and the incubator program. Register here.
Then, Thursday, Nov. 18 at 7:30p, complete your cooperative business model canvas.
Popular Categories
Related Stories