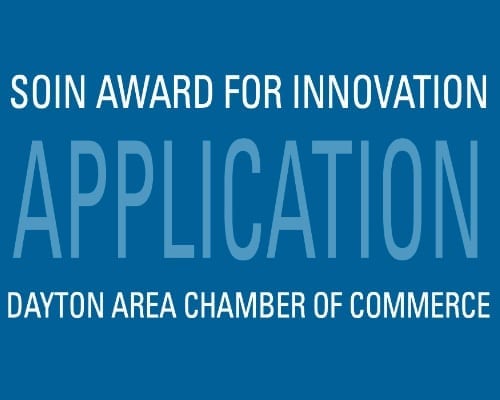 Applications are open for the 2020 Soin Innovation Award!
December 3, 2019
Want to see your favorite Dayton startup snag the Soin Award for Innovation — & the associated $25K in funding — in 2020?
Encourage the founder you know to apply by 4:30pm, Friday, Feb. 7!
The Soin Award is designed to identify, honor and financially assist a Dayton region company demonstrating the community's historical innovative and entrepreneurial spirit. The award recipient will showcase a new or pending product or service with the ability to sustain longterm growth for the company, increase local employment and help create economic prosperity in the region.
The award's sponsors include Soin LLC, the Rajesh K. Soin family, the Dayton Area Chamber of Commerce, CareWorks and Cox Media. The Soin family and the Chamber have partnered to offer the annual innovation award since 2007.
"The Dayton area has a long history of innovation and discovery. We must continue to encourage our local entrepreneurs to build on this and create new enterprises, jobs and additional opportunities for this region," Soin International Chariman and CEO Rajesh Soin said in a press release.
The Chamber's Education and Public Improvement Foundation (EPI Foundation) will present the 2020 award at the organization's annual meeting in April 2020.
Last year, Dayton startup GlobalFlyte won the 2019 Soin Award for Innovation. GlobalFlyte's team of seasoned public safety professionals license cutting edge technology from the Air Force Research Lab (AFRL) and integrate it into commercially developed mapping, imaging and smart phone technologies to provide emergency responders with a cloud-based service to cut through chaos and better coordinate emergency response.
The year prior, Dayton startup Battle Sight Technologies won the 2018 Soin Award for Innovation for their chemiluminescent writing tool — essentially an infrared glow stick that writes like a crayon to enable soldiers to communicate on the battlefield via messages only visible through night vision goggles.
"Winning the Soin award opened doors we could have never planned for," Battle Sight Technologies cofounder Nick Ripplinger said. "Through the award and the publicity that comes with the Soin Award, we were contacted by countless organizations and individuals offering a variety of assistance to help us grow."
Other past award winners include Mound Laser and Photonics Center, Inc., IYA Technologies, Composite Advantage, Commuter Advertising, NanoSperse, UDECX, AAA Wastewater, NONA Composites, Redwall Technologies and Obi / DESiN LLC.
Representatives of the region's business and academic leaders will join EPI Foundation board members on the selection committee.
Popular Categories
Related Stories