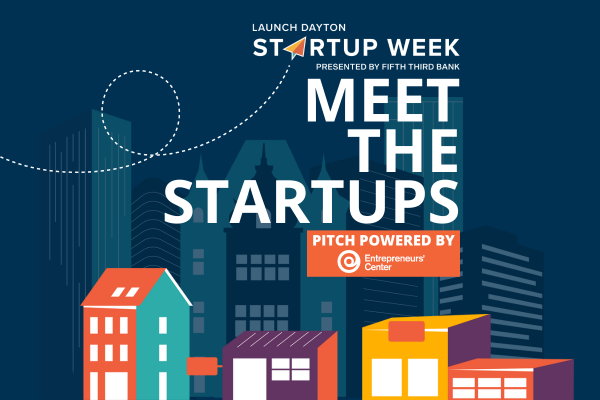 6 startups tapped to pitch for $22,500 in Wednesday's Startup Week Pitch Competition Powered by the EC
September 12, 2023
Launch Dayton Startup Week Presented by Fifth Third Bank is underway and on Wednesday night, six startups will pitch in the annual Startup Week Pitch Competition Powered by the EC. There is $22,500 up for grabs: $15,000 for the first-place winner, $5,000 for the second place winner, and $2,500 for the crowd favorite.
The innovation-focused competition is geared toward technology-based companies that are developing intellectual property and want to scale their business broadly to sell beyond the greater Dayton region.
The companies that will pitch are:
AIMM, developing a platform technology to address difficult-to-treat water issues, such as forever chemicals, to help provide safe water to all
Skuld, developing equipment and part designs to help industry reduce metal 3D printing costs by 90% with their new patent-pending AMEC process
Medical Interface Solutions, developing AI to detect stroke deficits in the prehospital setting. Their smart device, STROKENEKT, digitally screens for signs of stroke, links EMS by secure video chat to on-demand neurologist, and initiates stroke care orders prior to hospital arrival.
Kilele Health, developing wearable remote continuous patient monitoring cardiometabolic diseases, empowering doctors and patients with accurate real-time data
Green Zero Energy, bringing next-level reliability to portable power generation providing clean generators that run on any fuel
I-Squared Learning Solutions, developing interactive and inclusive STEM tools for young learners, allowing readers to modify each character to look like them and the communities they're from, and use math to solve everyday problems.
This year's pitch competition will be held Wednesday, Sept. 13 at 4:30p.m. in the Tank at the Dayton Arcade, 35 W 4th St., Dayton.
In addition to support from title sponsor Fifth Third Bank, Launch Dayton Startup Week is also made possible by our platinum sponsors, Parallax Advanced Research, Entrepreneurs' Center, Mile Two, McGohan Brabender, and Dayton Inno/Dayton Business Journal.
Popular Categories
Related Stories