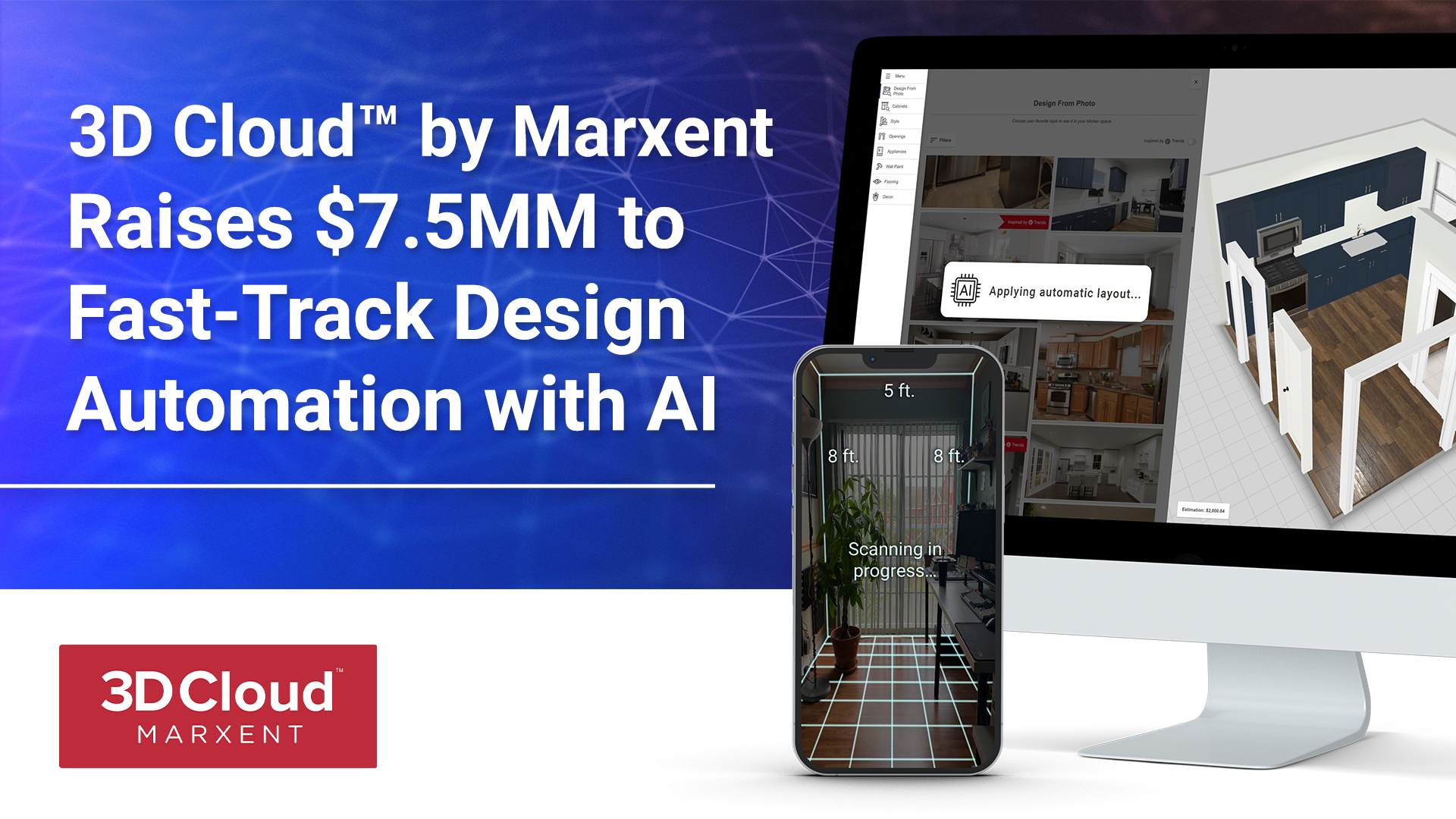 3D Cloud by Marxent raises $7.5M to fast-track design automation with AI
May 9, 2023
Following several years of strong growth and exceptional customer retention, Marxent is expediting plans to serve independent interior designers and pros.
3D Cloud by Marxent is the company's 3D product experience platform for furniture and home improvement retailers. Last week, leaders announced they'd raised $7.5 million in a Series D round of funding. The round was led by Tampa-based entrepreneur and board member Arnie Bellini.  Additional investment came from Lee Arnold, Executive Chair of Colliers International Florida and long-time investor in the company.
The company will open the 3D Cloud platform directly to independent interior designers and pros.  Innovations will include artificial intelligence-powered design automation, LiDAR room scanning integration, and self-service.
"With the Series D funding, we'll be able to fast-track the development of our AI and design automation capabilities," said Marxent co-founder and CEO Beck Besecker said. "Interior and outdoor design professionals are looking for modern, browser-based, and collaborative solutions and will love designing with 3D Cloud applications. Our goal is to create easy-to-use tools that cater to the needs of homeowners, store associates, and design professionals alike. AI is the key to achieving this vision."
Continued growth
3D Cloud by Marxent has already reached critical mass. A number of high-profile enterprise retailers and brands using the platform to power 3D commerce experiences. The company's platform enables furniture, kitchen, bath, and decking retailers and manufacturers to create immersive 3D product configuration, 3D room planning, and other 3D product experiences that drive conversion and capture operational cost savings.
"The company has exceptional leadership, a massive product catalog, top brands and retailers, and a compelling vision for bringing this tech to new audiences," Bellini said. "3D Cloud by Marxent's solutions drive both top-line growth and bottom-line savings for retailers regardless of economic conditions.  I'm excited to continue to support the team and their vision."
UBS Global Wealth Management forecasts that the AI hardware and services market will hit $90 billion by 2025. As the retail industry continues to adapt to changing consumer preferences, AI will play an increasingly important role in driving retail growth and innovation.
"AI will drastically simplify aspects of the design process for independent design pros and enterprise retailers alike," Arnold said. "3D commerce combined with AI is clearly the next frontier in furniture and home improvement retail, and 3D Cloud by Marxent is at the forefront."
This Series D funding round increases the company's valuation to over $135 million.
Popular Categories
Related Stories