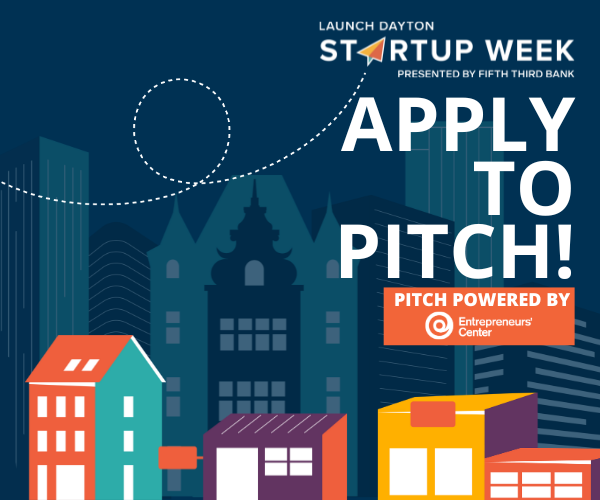 $22K+ is up for grabs in this year's Startup Week Pitch Competition!
July 31, 2023
Build Your Business, Build Your Community at Dayton's free conference for entrepreneurs, Sept. 12-15
The annual pitch competition at this year's Launch Dayton Startup Week Presented by Fifth Third Bank will feature a whopping $22,500 in cash prizes sponsored by the Entrepreneurs' Center.
Launch Dayton Startup Week draws hundreds of attendees each year to celebrate, inspire and empower the Dayton region's startup founders & business owners. The week-long, free conference offers high-quality talks, hands-on business workshops and vibrant networking opportunities.
This year, the pitch competition is powered by the Entrepreneurs' Center (EC).
"The EC is thrilled to sponsor the pitch competition this year at Startup Week. The caliber of pitches and talent in the Dayton region is impressive, and we want to acknowledge that by awarding a larger cash prize that could really move the needle for a startup," said Lauren Tiffan, AVP of Entrepreneurial Programs at the EC.
This year's pitch competition is Wednesday, Sept. 13 at 4:30p.m. in the Tank at the Dayton Arcade, 35 W 4th St., Dayton.
Six startups will compete. The first place winner will take home $15K. Second place will take home $5K. And the crowd favorite will take home $2,500.
The innovation-focused competition is geared toward technology-based companies that are developing intellectual property and want to scale their business broadly to sell beyond the greater Dayton region.
To qualify, startups must:
Have less than $100,000 in revenue and investment (not including founder and family investment)
Be connected to the Dayton region
Cannot have previously won an EC-powered pitch competition, such as Flyer Pitch
Apply to pitch by 11:59 p.m. Sunday, Aug. 27. Selected founders will be notified by Sept. 1.
Launch Dayton Startup Week is made possible thanks to title sponsor Fifth Third Bank, as well as platinum sponsors Parallax Advanced Research, Entrepreneurs' Center, Mile Two, and McGohan Brabender. This year's event will be fully in-person and will be held in the historic Dayton Arcade and The Hub Powered by PNC. The lineup will feature 50+ speakers across more than 60 sessions.
We are also teaming up with Sportcial to make this year's conference our most vibrant and interactive yet.
Check out full conference details + snag your free ticket here.
Popular Categories
Related Stories