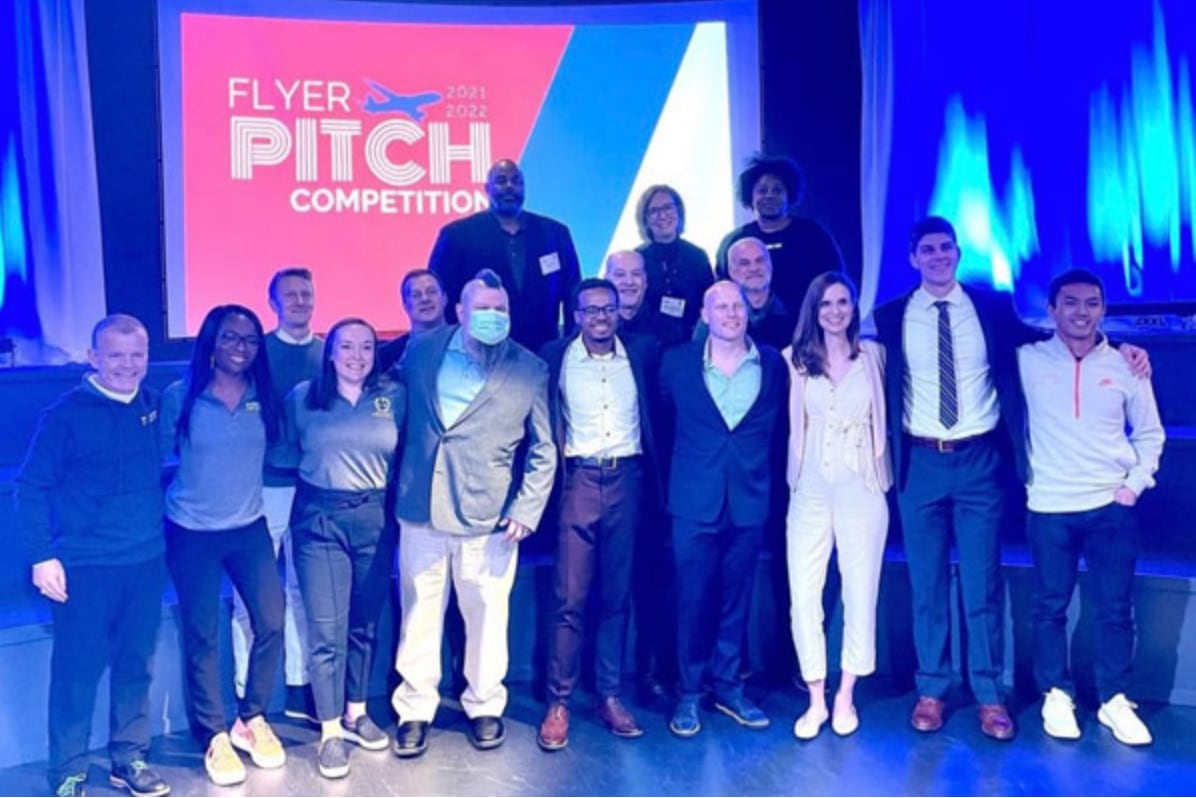 Moms, teachers take top prizes in 2022 Flyer Pitch
April 19, 2022
The University of Dayton awarded $150K to nearly a dozen "life-changing" startups last week as leaders announced winners of this year's annual Flyer Pitch competition.
Among the goals of the founders — support breastfeeding moms, support children's learning and emotional wellness, and ensure communities across the globe has access to clean drinking water.
Startup Track Winners
Taking first place in the startup track was Sarah Kallile, founder of Lunnie, reinventing the nursing bra. The Lunnie bra, developed with input for a network of moms across the Dayton region, is up to six times more absorbent than other bras on the market, and was created to offer women more comfort and style in their postpartum.
Sarah, mother of two, made extra history as the first pregnant winner of the Flyer Pitch competition. She took home $25K in cash + $25k in services from the Entrepreneurs' Center's Entrepreneurial Services Provider program.
"As a solo entrepreneur, it can be lonely bringing your vision to life on your own. There are times I question what the heck I'm doing, especially during this busy season of life raising two little girls while pregnant with my third," Sarah writes in a blog post reflecting on her pitch experience. "To have others I respect validate Lunnie means the world and keeps me moving forward."
Taking second place in the startup track was Luis Estevez, founder of AIMM, developing new water purification technology.
According to the World Health Organization, drinking water for more than 2 billion people around the world is contaminated. Luis is leveraging his research in nanoparticles to create a gravity-powered filter to kill bacteria and viruses in the water. He was awarded $35K in cash.
Rounding out the startup track winners were:
3rd place: Michael Ragsdale & Bailout Systems, offering the world's first hands-free rapelling device for emergency responders;
4th place: Ben Zawacki & The Ortho Sock, a no-show insole for arch and toe support
5th place: Kameron Seabrook & Open Bay Autos, providing a safe environment for DIY mechanics
Social Venture Track Winners
Taking a top prize and the community choice award in the Greater West Dayton Incubator's Social Venture Track was Michel'le Curington, founder of Fail Me Not Tutoring, offering reading, math, and writing tutoring for k-8 students. More than 1,400 people voted for the community choice award. Michel'le took home $10k.
Also taking home a top prize of $10K was Jordyn Calhoun founder of Unemotional, a Social Emotional Learning curriculum with an emphasis on cultural responsiveness, designed for students at urban schools in grades 7 through 12. The program, created by Jordyn Calhoun based on her experience with students through the COVID-19 pandemic, offers after-school programming, professional development for educators, and more.
Rounding out the social venture track were:
3rd place: Tiffany Brown & West Dayton Strong Camp, a STEM summer camp for students in West Dayton neighborhoods;
4th place: Ashley Browning & SoLoved, a project-based Christina community outreach organization;
5th place: Virgil Goodwine & Montgomery County Community Band
6th place: John Terrell & League Bound Prevention Institute
About  Flyer Pitch
Participating companies also won in-kind support. Throughout the competition, they worked with industry-specific mentors to develop their ideas and received a coworking membership at The Hub Powered by PNC.
"We had an incredible group of businesses this year with life-changing ideas to bring forward," said Vince Lewis, UD's associate vice president of entrepreneurial initiatives. "We want this competition not only to help businesses launch and grow, but to be a catalyst for social change with money and mentorship for nonprofits, social enterprises and community initiatives in Greater West Dayton. We know these entrepreneurs will add to Flyer Pitch's long track record of success with 74 businesses launched and more than $24 million of capital raised.
Flyer Pitch is one of the largest new-venture contests at the collegiate level, with more than $150,000 in cash prizes and $50,000 in in-kind prizes. It is operated by the University of Dayton's L. William Crotty Center for Entrepreneurial Leadership and the Greater West Dayton Incubator in partnership with PNC Bank, the Entrepreneurs' Center and Bandila Studios.
Popular Categories
Related Stories